Centro Noleggio
Representing an established familiar tradition since the end of XIX century in setups and furnishing for any kind of event, Centro Noleggio has always stood out for the design of exclusive and personalized solutions
News
La Serra: a journey through time reserved to who wants to live today a dream in an environment that comes from the tradition of the past.
Conceived by the team of designers of Centro Noleggio and translated into reality with great skill by the craftsmen of the internal carpentry. The structure with its light and slender shapes is bright, fresh and modern in its classicism. An unforgettable backdrop for an exclusive event.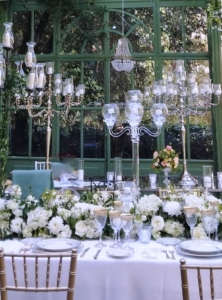 An ancient barn as location, a perfect and refined choice for this romantic and natural wedding, with the bride and groom surrounded by the affection of relatives and friends. A setting created with an extraordinary team, that checked with estreme attention every little detail !
The spaces of the Tamburnin Estate allowed the setting of the civil ceremony and the lunch with full respect of the necessary distance, but still managing to maintain the atmosphere of celebration, the warmth and happiness of the newlyweds and the guests.
Note: Event organized before the entry into force of the new DPCM
Contact us
Write or call us for a free consultation,
We'll be glad to suggest you the solution that best suits your needs send a request